Falling into The Sarah Book
A strange, compelling self-reflection, The Sarah Book by Scott McClanahan, entices with its sweet, experimental prose. McClanahan creates characters from their emotions, normal human emotions, sometimes exaggerated and often funny – like laughing on a park bench alone funny.
Instead of drawing a chronological line of progression through his relationship with Sarah (of The Sarah Book) Scott McClanahan ties chapters together through a combination of memory and momentum. He conjures parallels between his old and new lives. The author displays wild scenes of human instinct, vulnerability, anxiety, and love.
Scott McClanahan cracks the hard subject of divorce with wonder, humor, and introspection. His tone is rough but there's a beautiful melody to his style. It's poetic, it's exciting, it's visceral, it's visual. This isn't a conventional novel. It's an exploration into what this generation of writers is doing.
It's a couple hundred pages long and you'll want to finish it once you start reading it, but then you'll become a bit regretful because you don't want it to end, but in the end you'll realize you have to finish the book because you can always come back to books – something you'll learn in this book.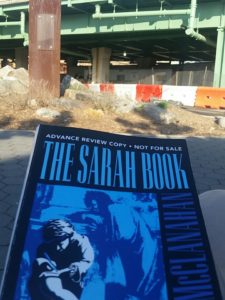 Please note:
I received an advanced review copy of The Sarah Book but I write this review judiciously and without bias, except every little bit of bias that I naturally have, which is a lot. New York Tyrant Books published The Sarah Book. You can order a copy from Tyrant Books or be a corporate monger and go with the version on Amazon. It's the same fucking book so do the publisher a solid and buy it from them. Tyrant Books publishes some other good shit. They also fire off some amazing tweets. You can follow Scott McClanahan on Twitter @ScottMcClanahan. And if you really wanna be a do-gooder, follow Tyrant Books on Twitter @TyrantBooks. Then follow me on Twitter @BeechwoodReview.